Book an appointment
Strabismus surgery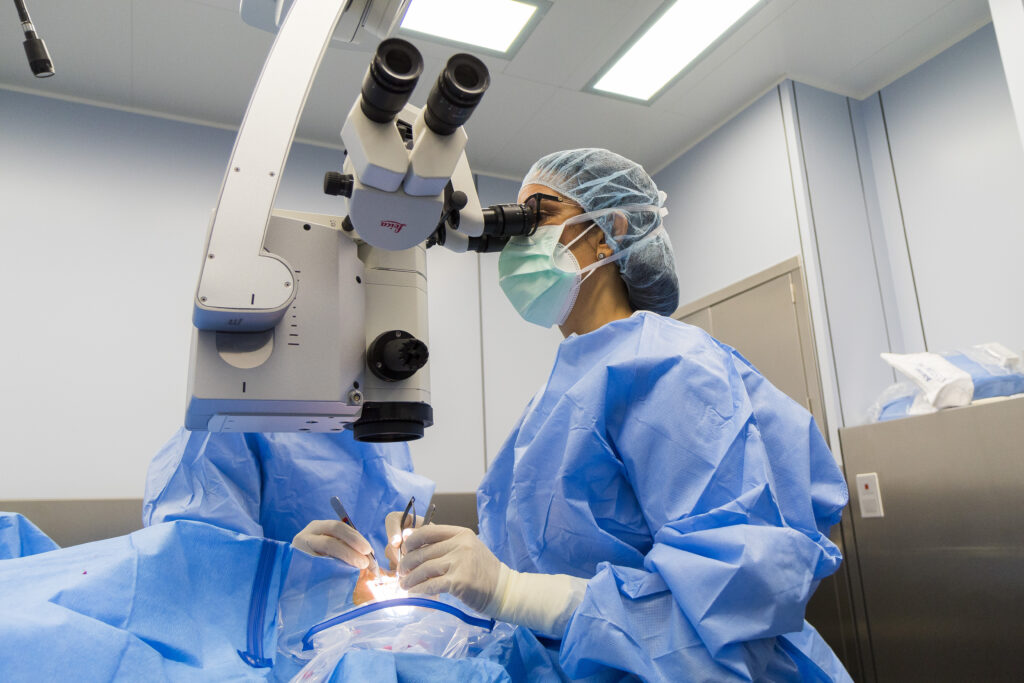 Not only cosmetic, but also functional and reconstructive surgery.
It allows us to eliminate double vision.
Effective and safe results at any age.
What does strabismus surgery involve?
Strabismus surgery acts on one or more of the six extraocular muscles that surround the eyes and control their movement to correct the loss of parallelism between them or eye deviation. Thus, in order to restore correct gaze alignment, our specialist surgeons strengthen, weaken or reposition these muscles as appropriate in each case.
It is not cosmetic surgery, but it also has a functional goal, as it allows us to correct double vision, widens the visual field and restores binocular vision or stereopsis capacity (coordination to merge the images of both eyes and create a single three-dimensional image). Furthermore, solving strabismus also avoids a stiff neck and has an impact on better self-esteem and relationships, thus eliminating insecurities associated with eye deviation.
Eye diseases treated
There is a false myth that strabismus cannot be corrected in adults and, although it is a very common surgery in children, we can perform it at any age with highly effective results and a very positive impact on quality of life.
Whereas we use general anaesthesia in the case of children, strabismus surgery in adults is performed under local anaesthesia and sedation. After going back home on the same day you had your surgery, you may notice slight discomfort, such as tightness, punctures or blurred vision, which usually do not last more than a week. We will indicate the treatment and postoperative guidelines to follow and, except for some precautions (for example, avoid bathing, making sudden efforts or putting on make-up during the first month), you will soon be able to resume your daily activities.
You will notice the change in your eye alignment from the onset, although the results will consolidate during the first month.
Some people delay the surgery, as they think that their problem has no solution, that they are too old or that they may be worse off. However, the risk of complications is very low, as it is an extraocular surgery, where we do not enter the eye and which is performed at the Miranza clinics by specialist ophthalmologists. As a result, the need for additional surgery to refine the result is also quite infrequent.
Another obstacle to surgery is the fear of double vision, a rare complication which, if it occurs, usually resolves spontaneously within a few days. Furthermore, we minimise the risk by carrying out a thorough prior study of the case and performing refined surgical techniques.