At Miranza, we behave in accordance with the highest ethical standards, guided by a desire to do the right thing at all times. Our Miranza Code of Ethics provides a clear and common framework for action, promoting a responsible and positive corporate culture, the pursuit of patient well-being and eye health, cohesiveness and a sense of belonging to the organisation, as well as self-fulfilment and personal and professional growth.
The Code of Ethics that governs us applies not only to Miranza's management team and governing bodies, promoting exemplary conduct, but also to all our professionals, companies that make up the group and third parties (suppliers, patients, society, etc.).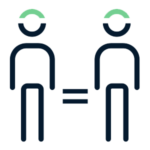 Equal conditions and treatment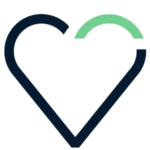 Commitment and loyalty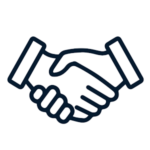 Effective response to conflicts
Our conduct principles and guidelines
In addition to the values that inspire Miranza, we are also guided by the following principles, while bearing in mind that the patient is our focus and each team member is a key player.
1
Versatility
We offer fully customised solutions and services.
2
Rigour
We do our job as accurately as possible.
3
Honesty
We always act in the best interest of the patient.
4
Method
We prioritise the best option over the easy one.
5
Passion
We go the extra mile and convey our passion.
6
Consistency
We speak and act with authenticity
7
Critical spirit
We analyse, question and suggest for the common good.
8
Empathy
We accompany our patients and colleagues
9
Active listening
We pay attention and show sincere interest.
10
Respect
We do not impose and avoid hurting feelings.
11
Positivity
We build security as professionals.
12
Non-conformism
We do not settle for easy things and seek to grow.
13
Technology
We add value with the best technological resources.
14
Flexibility
We do not look at a single idea and choose the most beneficial one.
15
Patient safety
We make patient safety a priority in all our actions.
16
Patient rights
We guarantee compliance with the Charter of Patient Rights and Responsibilities.

Our ethical duties
Beyond Miranza's corporate culture and the principles linked to medical activity, we also abide by legal regulations and guarantees related to business ethics and social responsibility.
1
Transparency and truthfulness
3
Right to intimacy and privacy
4
Confidentiality of information
6
Health and safety at work
7
Equality and work-life balance
9
Legality and corporate governance system
11
Authorities, regulatory bodies, civil servants and public administrations
Our commitment
Ethics is a cross-cutting feature and involves all aspects of corporate management at Miranza's centres. Thus, we provide our professionals with the resources and means necessary to carry out their professional activity in accordance with these standards, including information, training, documentation, protocols, etc., as well as control mechanisms.
Our Compliance Committee is responsible for ensuring compliance with the Code of Ethics, monitoring it, driving corrective or improvement actions and developing a programme to prevent potentially punishable conduct.
Complaints channel
You may use this form to send us your questions or suggestions regarding the Code of Ethics and notify us of any alleged irregularities. The Compliance Committee will respond to you according to criteria of proportionality, confidentiality, non-retaliation and presumption of innocence, while using this channel as a means of communication and transparency.
You can find a summary of the key points of Miranza's Code of Ethics here , which also includes the Charter of Patient Rights and Responsibilities.