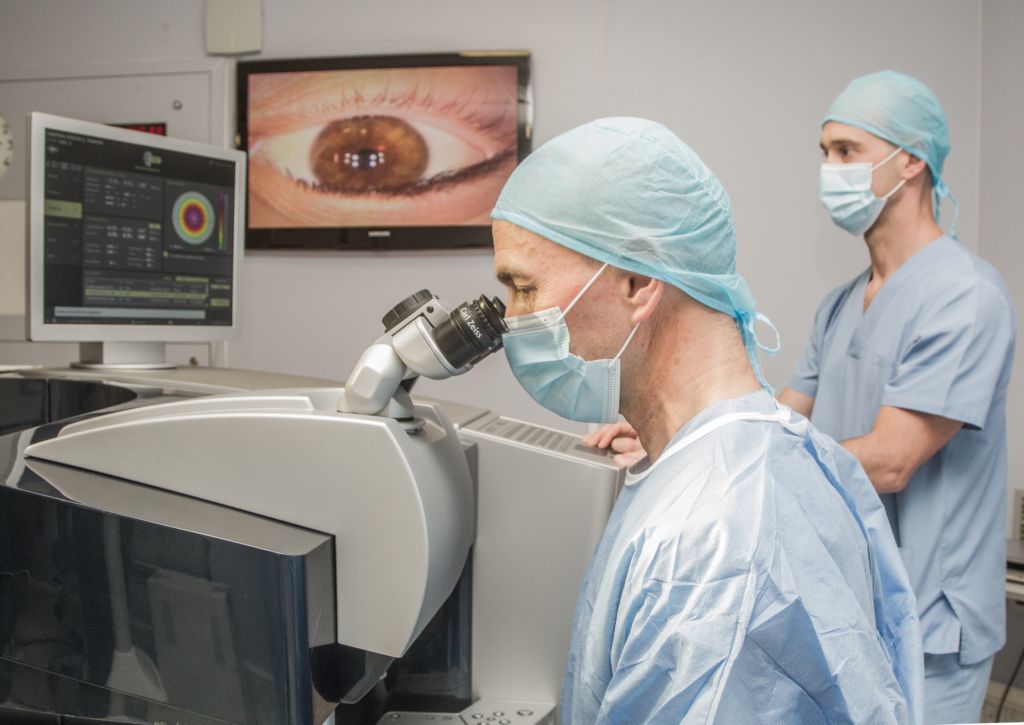 Streamlight Technology: refractive surgery without touching the cornea
Miranza Begitek, a forerunner in the use of Streamlight laser for refractive surgery
Innovation and implementation in technology applied to medicine is the best combination to get the best results, according to Dr Jaime Aramberri, a specialist with more than 25 years of experience at Begitek. This clinic, which belongs to our Miranza Group, uses Streamlight technology for refractive surgery, which allows us to perform the surgery without touching the eye surface.
Miranza Begitek has been improving this technique for three years. Previously, it was only used to remove corneal scars or for more complex pathologies. The procedure consists of applying, through the epithelial eye surface, the excimer laser, a type of laser that, instead of cutting or burning, separates the molecules from the tissues, thus allowing the cornea to be modified. Thanks to this procedure, the surgeon does not physically touch the cornea at any time, hence avoiding mechanical cuts and scrapes.
Advantages for patients with myopia and astigmatism
In this way, Streamlight technology for refractive surgery makes it possible to correct refractive errors, such as myopia and astigmatism, by reducing the risk of corneal infection and minimising postoperative recovery time. Dr Jaime Aramberri, an ophthalmologist at the Miranza Begitek Refractive Surgery Department, states that "patients do not notice any contact, because there simply is not any" and adds that "they will never undergo a simpler surgery than this one, as it only takes five minutes for both eyes, and they can immediately go home".
In cases of myopia greater than 7 dioptres and for patients who cannot undergo laser surgery, Miranza Begitek recommends the implantation of ICL-type intraocular lenses to correct myopia and astigmatism with precision. This technique consists of placing a phakic lens between the iris and the crystalline lens in a simple, short and minimally invasive surgery.
What is new in ICL lens implantation
The Gipuzkoa clinic has been performing this surgery for more than 20 years with excellent results. The ICL technique was introduced to the market in 1994, whereas the latest development took place in 2016, with the appearance of the EVO+ model, which increased the optical area of the lens, while improving the quality of night vision. Dr Aramberri implanted the world's first EVO+ ICL.
The improvements in the technique, which, together with the implementation of new algorithms, allow us to correct myopia and astigmatism with similar quality to that of a good contact lens, make this a good option, especially for night drivers and people who do intense sports, according to Dr Aramberri.