Book an appointment
Skinboosters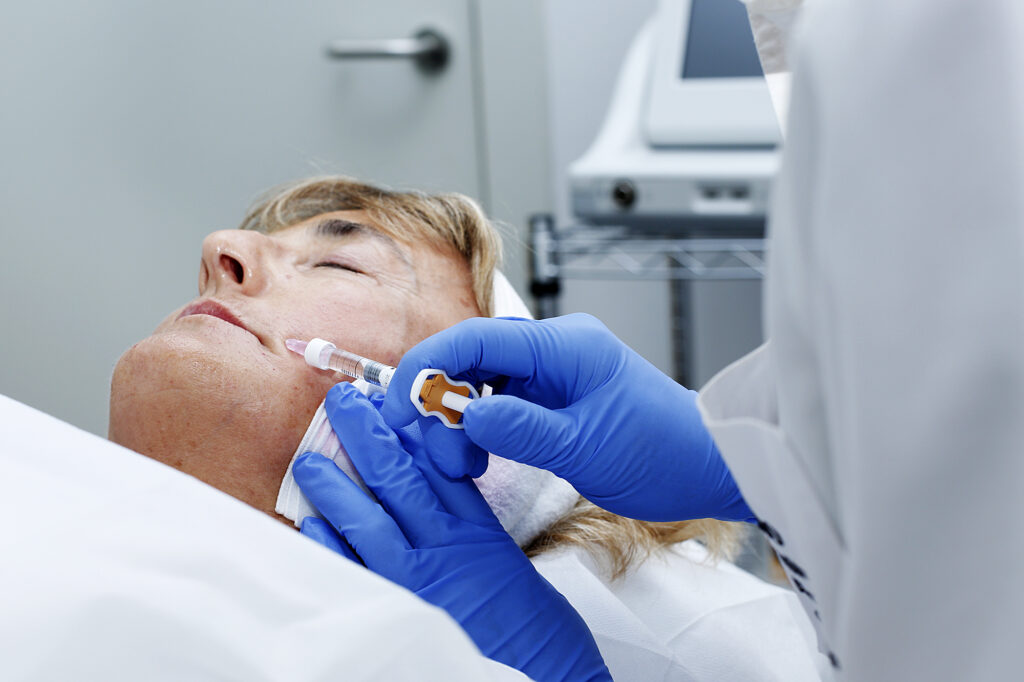 In-depth skin hydration from the inside.
Revitalising your face and preventing the signs of ageing.
Especially beneficial for the summer.
What are Skinbooster threads?
This non-surgical aesthetic facial procedure consists of applying micro-injections of hyaluronic acid, a natural component of the body that has been used for years as a filler substance and that, as a basis for the innovative treatment with Skinboosters, offers a powerful revitalising effect.
The aim of this type of state-of-the-art hyaluronic acid applied in gel form is to rejuvenate the skin from the inside, improving its quality and elasticity thanks to in-depth, prolonged hydration. It also stimulates collagen synthesis, which is also essential for keeping the skin in good condition.
This gives an overall rejuvenating effect so that your face looks brighter, plumper, smoother and tighter, with a healthy, natural appearance that enhances the benefits of conventional mesotherapy. The results of Skinboosters are noticeable after the first session and can be seen for months.
Problems treated by Skinboosters
At the Miranza clinics we recommend treatments with Skinboosters in both women and men to reverse the initial signs of ageing and as prevention in young patients wanting to keep their skin fresh and healthy, delaying the effects of time on their face.
Skinboosters are also very effective in revitalising the skin after periods of stress and, thanks to their great hydrating power, we especially recommend them in the summer, when the skin suffers most due to intense sun exposure.
The treatment with these micro-injections of hyaluronic acid is performed in the consulting room in the manner most comfortable for you, previously applying an anaesthetic cream to relieve any discomfort.
Skinboosters require no special measures for recovery or additional care, and you will be able to return to your everyday life immediately after the session. You will soon see the results, which will improve progressively as the weeks go by.
Depending on your specific needs, we will schedule a varying number of session, which is often between 3 and 6. Once the treatment has been completed, we might repeat it whenever necessary to maintain the effects, which last for around one or one and a half years. To optimise and prolong these effects, we recommend a healthy lifestyle (no smoking, moderate consumption of alcohol, following a diet rich in antioxidants, etc.), sun protection, and consistent everyday care of your skin.
Some side effects that might occur after the application of Skinboosters include slight redness and swelling of the area for the first few hours and, in less frequent cases, minor bruising that is reabsorbed over the days following the session. The possibility of an adverse or allergic reaction to Skinboosters is very low, given that hyaluronic acid is a substance that naturally forms part of the skin.
It is a safe treatment that, however, must always be performed by a specialist professional who is familiar with the technique and who will inform you of its benefits and limitations to ensure your utmost satisfaction. You must also remember that this procedure might not be recommendable if, for example, you suffer from certain active skin diseases.