Book an appointment
Ricardo Reguera
Specialist at Miranza Virgen de Luján
Ophthalmologist specialising in Cataract, Refractive Surgery, Paediatric Ophthalmology, Adult Strabismus.
Member of the Spanish Ophthalmology Society (SEO).
Member of the French Ophthalmology Society (SFO).
Member of the Portuguese Ophthalmology Society (SPO).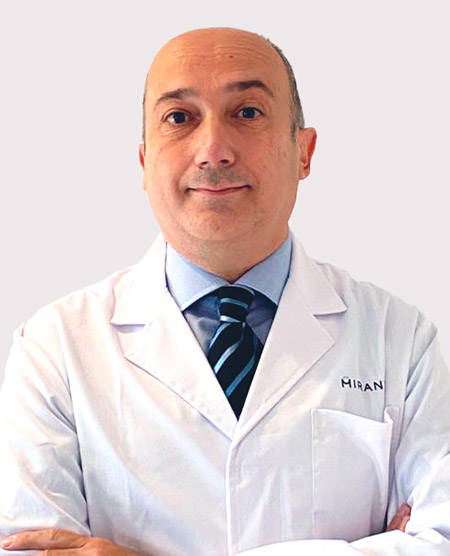 Training
Bachelor of Medicine and Surgery from the University of Cadiz.
Resident in Radiation Oncology, Head and Neck at the Portuguese Institute of Oncology in Lisbon, Portugal (1996 – 1998).
Specialist in Occupational Medicine through Residency at the Ricardo Jorge National School of Public Health – Universidade Nova de Lisboa, Portugal (1998 – 2003).
Specialist in Ophthalmology through Residency at Hospital Civil de Lisboa, Portugal (1999 – 2003).
Doctorate and Research Proficiency courses at the University of Seville (2000).
Career
Paediatric ophthalmologist at the Instituto Hispalense de Pediatría. Seville (2004 – 2016).
Specialist ophthalmologist at the Santa Ángela de la Cruz – Viamed Hospital. Seville (2016 – 2017).
Specialist ophthalmologist of the Paediatric Ophthalmology Department at the Catalan Retina Institute. Barcelona (2016 – 2018).
Ophthalmologist specialising in anterior pole, strabismus and paediatrics at Miranza Virgen de Luján. (2004 – at present).
Ophthalmologist at Air France International Medical Centre. Paris, France (2018 – at present).
Scientific and Research Activity
Participation in 12 congresses, courses and symposia (1996 – at present).