Book an appointment
Low Vision Area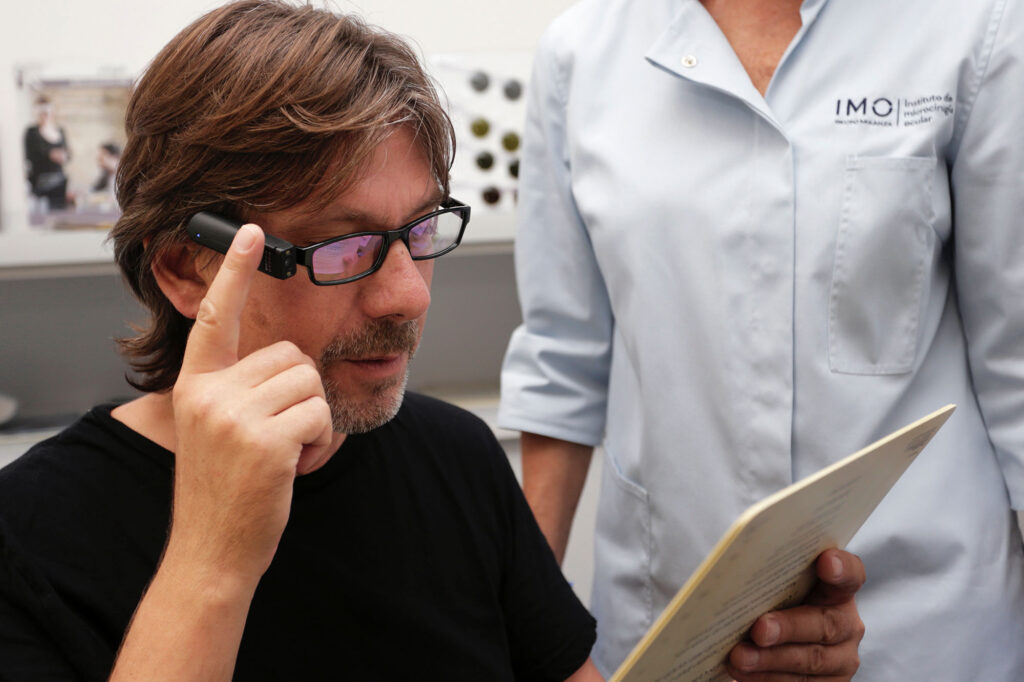 What is low vision?
Between blindness and good vision there are many degrees and nuances. In fact, in Spain it is estimated that there are over two million people with low vision, a condition defined by:
→ Having a visual acuity of less than 0.3 (with 1 being the maximum on this scale).
→ Having a visual field of less than or equal to 10 degrees (when the normal range is approximately 180 degrees).
→ It is often accompanied by excessive sensitivity to light.
Low vision is not improved by wearing glasses or contact lenses, nor by applying the appropriate medical, pharmacological or surgical treatments. However, this does not mean that there are no alternatives we can offer you, as there are many aids to enhance your remaining vision and make the most of it, thus improving your daily autonomy. Advising you on these aids – which are constantly evolving thanks to new technologies – and teaching you how to use them is the aim of the Low Vision Area of the Miranza clinics.
Moreover, since many eye diseases are currently detected at earlier stages, it is not necessary to reach a severe visual limitation to go to the Low Vision Area, where we can also support you and improve your quality of life, if you have fragile vision (visual acuity of 30-80% and visual field of 60-80%).
Patients for whom low vision aids are indicated
There are many pathologies that can cause low vision or fragile vision, both eye diseases (for example AMD, Retinal dystrophies, Glaucoma or Diabetic retinopathy), and strokes affecting sight. The aids offered by this area can be particularly beneficial if you have poor vision at close range and/or far away; if you have a reduced visual field; if you often complain of flashes and glare; or if you notice that you have little sensitivity to contrast. 
At the Miranza clinics, we seek personalised solutions for each patient, so that losing sight does not mean giving up your daily activities, such as reading, working, playing sports, cooking or simply going down stairs or walking safely without the feeling of tripping.
Based on the ophthalmological diagnosis, our team of specialist optometrists in the Low Vision Area will carry out a comprehensive assessment to detect your specific visual needs. Based on this, they will prescribe the aids that may be most useful to you and will accompany you in a vision rehabilitation process to train you in their effective use, as there are many different types of aids and it is essential to learn how to use and integrate them into your daily life. 
Types of low vision aids
Optical aids:

magnifying lenses or glasses, telescopes and microscopes that can be mounted on glasses etc.

Non-optical aids:

selective filters that increase contrast and protect from sunlight, special lighting systems, reading stands, objects with high contrast or large keys, sound instruments …

Electronic aids and new technologies: they open up a wide range of possibilities, thanks to sophisticated and innovative equipment, such as the eSight or Retiplus augmented reality glasses and the Orcam MyEye voice assistant, a small device equipped with a front camera that is able to identify everything the patient can no longer see (recognising faces, seeing the time and reading labels, receipts, a book, the newspaper, a restaurant menu …).