Book an appointment
Ricardo Cocco
Specialist at Miranza Ókular and Miranza Begitek
Ophthalmologist specialising in Adult Strabismus and Paediatric Ophthalmology at Miranza Ókular.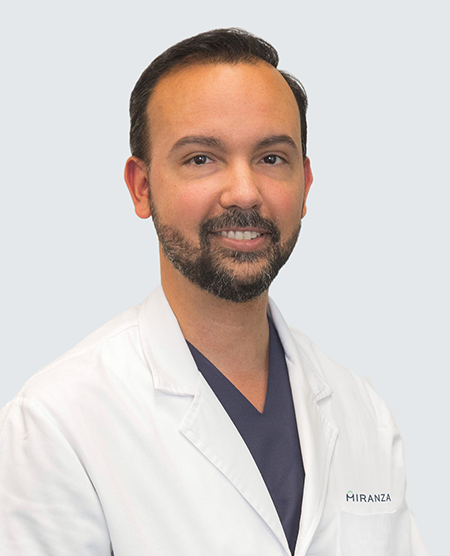 Education
Bachelor of Medicine and Surgery. Technological Institute of Santo Domingo, Dominican Republic. 2001 – 2007.
Law internship. Fire Department of the National District of the Dominican Republic. 2007 – 2008.
Training for the MIR exam at MIR Asturias, Oviedo. 2009 – 2010.
MIR training in Ophthalmology at Galdakao-Usansolo Hospital. 2010 – 2014.
Outside rotation at the Castiella Ophthalmology Institute, Bilbao. Paediatric strabismus, by Dr Castiella and Dr Anguiano. September – October 2013.
Outside rotation at Vall d'Hebron Hospital, Barcelona. Adult strabismus and paediatric ophthalmology, by Dr Galán and Dr Martín. January – February 2014.
Master's degree in Clinical Ophthalmology. Cardenal Herrera University, online master's degree. June 2016 – 2017.
FEBO title. European Board of Ophthalmology Diploma. May 2017.
Master's course in Optical Technologies and Clinical Optometry. CEU. January 2021 – 2022.
Career
Specialist in General Ophthalmology and Ophthalmological Emergencies. Centro Oftalmológico Integral Bilbao Berri, Bilbao. 2014 – 2016.
Specialist in General and Paediatric Ophthalmology. Zumarraga Hospital. 2014 – 2016.
Specialist in General and Paediatric Ophthalmology. Etxeandia Ophthalmological Institute. 2017 – 2019.
Specialist in Paediatric Ophthalmology and Strabismus at the Áraba University Hospital, Vitoria. 2016-present.
Specialist in Paediatric and General Ophthalmology and Strabismus at Miranza Ókular. 2017-present.
Scientific and research activity
Papers in national and international conferences: 7
Publications in books and medical journals: 4
Research ophthalmologist in: Phase III, multicentre, randomised, double-blind, placebo-controlled, parallel trial to assess the safety, tolerability and effectiveness of Bilsatina ophthalmic solution 0.6% in children. 2022 – 2023.