Book an appointment
Miguel Ángel Pérez Silguero
Co-medical director at Miranza Clínica Pérez Silguero
Founder of the ISBCS (International Society of Bilateral Cataract Surgery).
Former president of the Clincvisión Refractive Surgery Group in Las Palmas de Gran Canaria
Founder of the Dry Eye Unit at Clínica Pérez Silguero.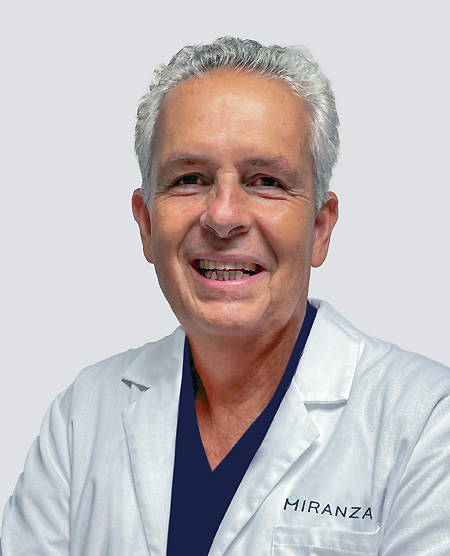 Education
Degree in Medicine and Surgery from the University of Salamanca. 1983 – 1989.
Doctorate from the Complutense University of Madrid. 1994.
Specialist in Ophthalmology via MIR (medical resident intern) at La Candelaria Hospital, Tenerife. 1995 – 1999.
Master's degree in Neuro-ophthalmology and Strabismus. 1991.
Career
Head of Ophthalmology Department at La Paloma Hospital. Las Palmas de Gran Canaria. 1999 – present.
Co-medical director at Clínica Oftalmológica Pérez Silguero. 2014 – 2023.
Co-medical director at Miranza Clínica Pérez Silguero. 2023 – present.
Teaching activity
Director of the first, second and third meeting of users of the Eyelight platform (IPL + LLLT) for the treatment of dry eye in Granada. 2018, 2019 and 2023.
Scientific and research activity
Developer of the phaco-cracking technique.
Editor of the journal of the Canarian Society of Ophthalmology (2004 – 2007).
Several papers at national and international conferences
Publication of books, chapters and articles in scientific journals:

Of particular note are the articles on sequential bilateral cataract surgery and the participation in the book Immediately Sequential Bilateral Cataract Surgery.
Also of special importance is the article on the treatment of dry eye with longer follow-up time, entitled: Combined Intense Pulsed Light and Low-Level Light Therapy for the Treatment of Dry Eye: A Retrospective Before-After Study With One-Year Follow-up. 22-May-21.