Book an appointment
Juan Palomares
Medical Director at Miranza Clínica Palomares
Medical Director at Miranza Palomares Clinic.
Specialist ophthalmologist with extensive surgical experience: Over 8,000 cataract surgeries, over 3,000 glaucoma surgeries, over 50 strabismus surgeries, 300 Blepharoplasty surgeries, 70 penetrating keratoplasty surgeries, 80 convention and diode laser-assisted dacryological surgeries, over 5,000 eyes operated on using excimer laser refractive surgery.
Member of the Ophthalmology Society of Valencia, the American Academy of Ophthalmology (AAO), the Barraquer Institute and the American Society of Cataract and Refractive Surgery (ASCRS).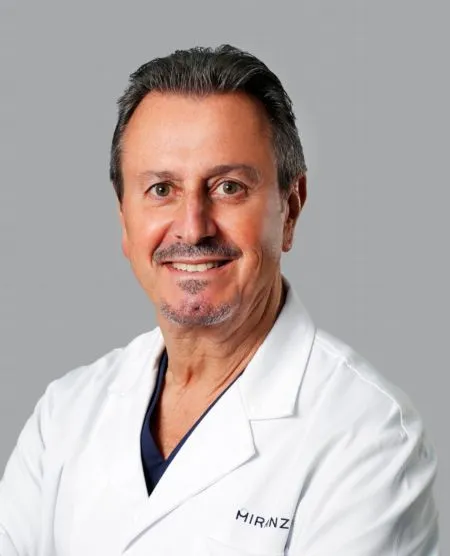 Training
Bachelor of Medicine and Surgery from the University of Valencia 1979.
Ophthalmology Specialist diploma from the University of Murcia 1983.
PhD with grade of OUTSTANDING 1989 -1991.
PhD in medicine with CUM LAUDE grade, 1991 University of Alicante.
Attendance at 183 courses and ophthalmology refresher congresses in Europe and the US.
Career
Medical intern 80-83 "Santa María del Rosell" Hospital Cartagena.
Attending ophthalmology physician at Virgen del Castillo Hospital (Murcia) 83-85
Specialist surgical physician in the public health service of Alicante 1985-87
Head of the Anterior segment and corneal transplantation unit at the San Carlos Clinic (Alicante) 1988-95
Specialist anterior segment surgeon at Santarem Hospital (Portugal) 2009-2011.
Current Medical Director of Miranza Palomares Clinic in Benidorm.
Teaching Activity
Associate professor at the University school of nursing, Santa María del Rosell Hospital: "Ophthalmology" 1982-83
Assistant professor at the school of optics in Alicante:
"Medical Contactology" in 1989-90
Assistant professor in the theory classes of the Occupational Medicine speciality at the Medical Association in Alicante, 1990-91 to 1995-96
Assistant professor in the Ophthalmology emergencies subject organised by the Official College of Nursing of Alicante in 199.
Scientific and Research Activity
40 abstracts presented in the US (Boston, Atlanta), in Europe (Spain, Italy, Amsterdam, London).