Book an appointment
José Ramón Pérez
Specialist at Miranza Clinic Muiños
Specialist ophthalmologist in Glaucoma.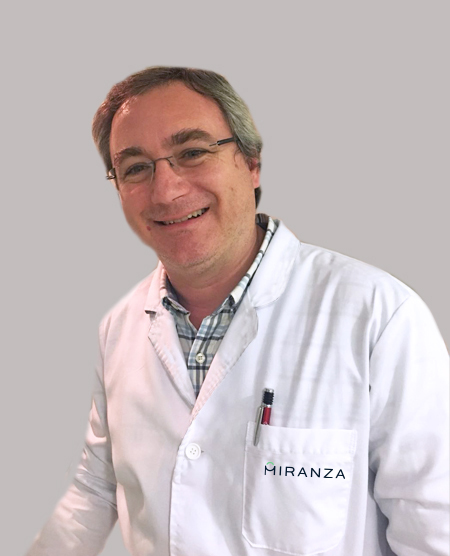 Training
Bachelor of Medicine and Surgery from the University of Granada (1990-96)
PhD course 'Biological systems biotechnology' in the Dept. of Morphological Science at the Univ. of Granada, gaining Research proficiency (1996-98).
Introductory ophthalmology course at the Castroviejo Institute of Madrid (2000).
Ophthalmology specialist via medial internship at the Virgen de las Nieves Univ. Hospital in Granada (1998-2002).
Research scholarship in the area of glaucoma at the Canary Islands University Hospital (2003-04).
Career
Area Specialist Physician (FEA) in the Ophthalmology Department at Nª Sra. De Candelaria University Hospital (HUNSC) permanently since 2004.
Currently specialist ophthalmologist at Miranza Clinic Muiños.
Teaching Activity
Emergency Ophthalmology Course for medical interns, organised by Virgen de las Nieves Univ. Hospital in Granada (2002).
Visiting professor in the Surgery, Ophthalmology and ENT Dept. of the ULL.
Different courses on reading retinographies for AP, within the context of the Retisalud programme by the SCS.
Scientific and Research Activity
Participation in different international Multicentric Clinical Trails as the principal investigator.
Attending various ophthalmology congresses nationally (SCO, SEO, FacoElche, SEE, SOM) and internationally (AAO, ESCRS), as well as symposiums (Controversies in Glaucoma), Meetings and Forums.