Book an appointment
Jose Alberto Muiños
Medical Director at Clínica Muiños
Member of the Miranza CLF (Clinical Leaders Forum)
Medical Director at Miranza Clinic Muiñas.
Ophthalmologist specialising in refractive, cataract and corneal surgery.
Member of the Canary Islands Ophthalmology Society (SCO) and of the Spanish societies of ophthalmology (SEO), refractive and ocular implant surgery (SECOIR) and retina (SERV), as well as other prestigious international societies, such as the American Academy of Ophthalmology (AAO), the European Society of Cataract and Refractive Surgeons (ESCRS) and the International Society of Refractive Surgery (ISRS).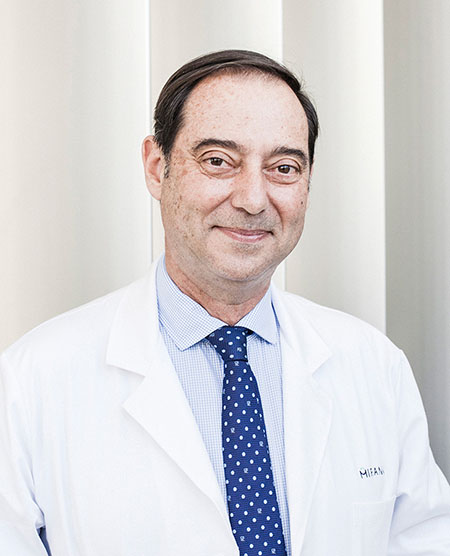 Training
Bachelor of Medicine and Surgery from the University of La Laguna, graduating in July 1985 with an average grade of excellent. 1979 – 1985.
Degree examination at the University of La Laguna with the grade of Excellent. 1986.
Ophthalmology speciality at Barraquer Ophthalmology Centre in Barcelona. One-year retinal fellowship and another one-year Lens Surgery, 1985 – 1991.
Attending over 25 Ophthalmology congresses nationwide, more than 10 international ophthalmology congresses, and 40-plus ophthalmology specialisation courses.
Career
Barraquer Ophthalmology Centre in Barcelona. 1985 – 1991
Las Américas Hospital, Tenerife. 1991 – 1992.
Ophthalmology Department Head at the USP Costa Adeje Hospital, Tenerife. 1992 – 2010
Co-Director at the Amigó-Muiños Ophthalmology Institute, 1994 – 2005
Medical director at the Muiños y Asociados Ophthalmology Centre. 2005 – 2009
Medical director at Innova Ocular Clinic Muiños. 2009 – December 2019
Medical director at Miranza Clinic Muiños, December 2019 – present
Teaching Activity
Over 15 courses given nationwide for training in areas such as laser applications in ophthalmology, management of uveitis, advanced diagnosis through corneal topography or phacoemulsification, among others.
Scientific and Research Activity
Former coeditor of the Canary Island Ophthalmology Society Archives.
Former vice chairman and former secretary of the Canary Island Ophthalmology Society
Speaker in around twenty presentations at national conferences and congresses, such as the annual meetings of SCO, SEO and SECOIR.