Book an appointment
Alfonso Castanera
Specialist at Miranza IBO
Member of the Miranza CLF (Clinical Leaders Forum)
Ophthalmologist specialising in Paediatric ophthalmology and Strabismus.
Expert in screening techniques (early detection) for amblyopia and strabismus, and in the application of Basic Sciences in the diagnosis and treatment of strabismus. He is considered a world authority in Studies of Orbital Mechanics, Congenital strabismus and the Diagnosis and treatment of cyclovertical strabismus, especially in the pathology of the superior oblique muscle.
Member of the Jampolsky Fellows Association, and of the Association of Science Students.
Member of the most important Ophthalmology and Strabismus Societies, he has been the Chairman of the Spanish Strabismus Society, and a member of the executive committee of the European Strabismological Association (ESA) and the International Strabismological Association (ISA).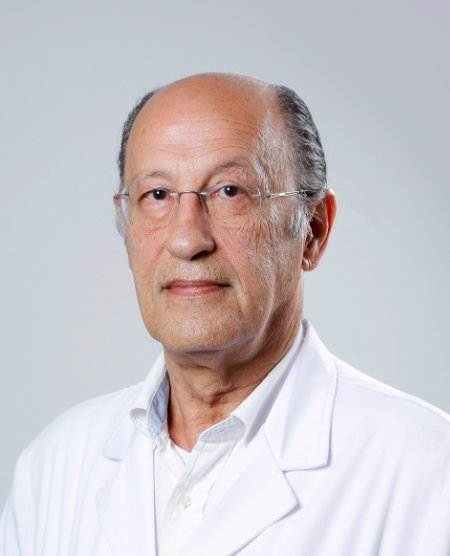 Training
Bachelor of Medicine and Surgery from the University of Barcelona, Clínico Hospital (1973).
Specialist in Ophthalmology (1988).
Training in Paediatric Ophthalmology and Strabismus at the San Juan de Dios Hospital, Barcelona, with Dr A. Castanera Pueyo(1973-1981).
Strabismology training in various internships abroad, including the Moorfields Eye Hospital (London, UK, 1976), with Professor Kenneth C Wybar, and at the Smith-Kettlewell Eye Research Institute and Foundation (San Francisco, Ca, USA) with Dr A Jampolsky, Dr AB Scott and Dr CC Collins (1980).
Career
Director of the Paediatric ophthalmology and Strabismus section at San Juan de Dios Hospital (Barcelona, 1973 -1981).
Director at the Castanera Institute of Ophthalmology (Barcelona, 1973 -1988).
Director at the Institute of Paediatric Ophthalmology (Barcelona, 1988 – 2014).
Director at the Balearic Islands Ophthalmology Institute (Palma de Mallorca, 2014 – present).
Teaching activity
A guest professor at many different congresses and symposiums around the world, he has organised and managed three international symposiums on the speciality, which was attended by the most prestigious specialising worldwide, including Professor Torsten N Wiesel, Nobel Laureate in Medicine in 1981.
He has taught 12 Basic Strabismology Courses (Scientific Foundations) between 1976 and 1998, including a Strabismology Refresher Course at the Barraquer Clinic of America (Bogotá, Colombia, 1981).
Scientific and research activity
Author of over 60 publications in national and international journals on the speciality, he has published two Annual Reports for international congresses and take part in several chapters of other publications.