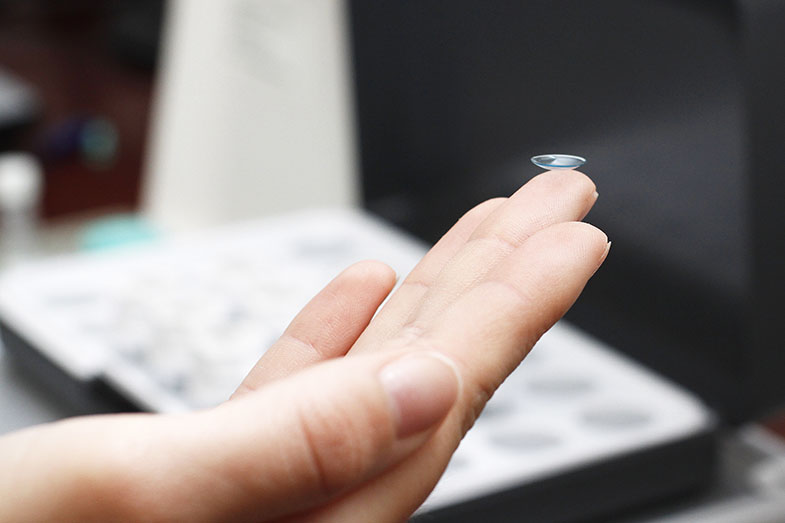 Thorough hand washing prior to lens handling
Good hygiene of lenses and glasses is also important, against the Covid-19
The eyes are one of the entrance to the coronavirus, since we easily rub them (when we are sleepy, we work with the computer, we do sports and sweat enters them…), we might previously
touch a contaminated surface. Therefore it is important to avoid this gesture to reduce possible infections.
But what about contact lens wearers? According to María José Sánchez, optometrist and low vision coordinator of Vissum Alicante. Grupo Miranza, "we cannot advise against the use of contact lenses, since studies have not shown that people who wear them have a higher risk of developing a coronavirus infection, whenever they follow the instructions for use and hygiene."
In this sense, "if you are a contact lens user, it is essential that you scrupulously wash your hands before putting on and taking off your contact lenses, a habit that is always necessary to prevent any type of infection, but it has a special relevance in the current situation. "Explains Sánchez.
In addition, another recommendation is "preferably to choose frequent replacement contact lenses, since each new pair of lenses that we first use is sterile and clean material, which minimizes the risks associated with an inefficient cleaning of the lenses". Therefore, daily contact lenses ( single-use disposable ), for example, are more advisable than monthly ones.
When this is not possible, and to provide a good disinfection of the lenses, we give you some guidelines that allow extreme hygiene against the coronavirus:
if they are soft, you can use more powerful disinfection systems than usual, such as hydrogen peroxide.
If they are permeable, hybrid, scleral or Ortho K, you can do the cleaning with special soaps (surfactants with isopropyl alcohol) together with a single solution and rinse with saline.
Recomendations to keep eyeglasses clean
An alternative to contact lenses, in case you prefer to temporarily put them aside, is the use of glasses. However, although they avoid direct contact of the hands with the eyes, the optometrist of Vissum Alicante. Grupo Miranza warns that "they can give us a false sense of security, since we are only really protected from any particle that enters the eye with safety frames that carry frontal and lateral protection".
Besides, the materials of the glasses can also be contaminated, so that the coronavirus is present in them for a while, it will vary depending on the material of the frame. This again highlights the importance of washing our hands frequently, in addition to maintaining good hygiene of the glasses themselves. To do this, you can follow these steps ( it will help you as well to keep the contact lens case in good condition):
Rub the frame with abundant neutral soap.
After one minute, rinse with water.
Put the glasses to dry on an absorbent paper.
Dry them on a silk cloth, like the one they give you at the optician.
Other products to clean the glasses are hydrogen peroxide (0.5%), water and diluted bleach (ratio of 490 ml water to 10 ml of bleach) – do not use it on metal frames – or 70º alcohol – to avoid if your glasses are acetate frame.
One last tip: do not use cleaning wipes from non-specialized centers to clean your glasses, as they are very abrasive.