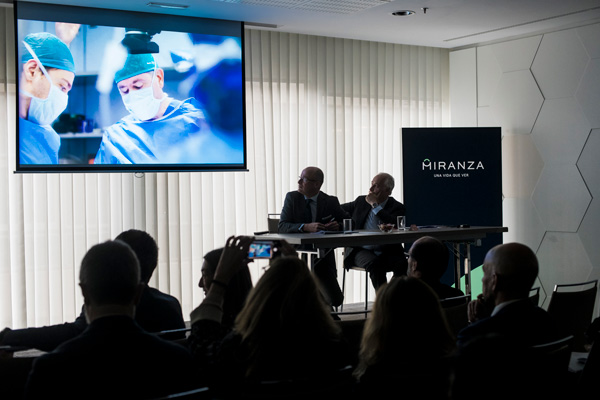 Miranza – setting off on our journey
February 17th, 2020 /
News
/ Equipo Miranza
We at Miranza are embarking on our journey as a leading group in ophthalmic medicine in Spain, ready and determined to become a benchmark in the industry thanks to a wide network of centres of national and international renown.
Medium- to high-complexity eye surgery is the group's core activity, which was presented in Madrid in January. Our team, which is made up of over 500 professionals and a hundred ophthalmologists, offers specialised care and the most advanced techniques for any eye disease, including treatment, research and prevention.
Our commitment to talent and professionalism with regard to our medical staff is one of our differential values. "We boast most ophthalmic leaders in Spain, which imbues the group with clinical leadership, great expertise and knowledge," Ramón Berra de Unamuno, Miranza's CEO, says.
R&D&I – Miranza's outstanding commitment
Thanks to the experience of the centres that make up Miranza and the encouragement of the executive and medical directors (established as a professional body, the Clinical Leaders Forum), we started the group with around twenty clinical studies in the pipeline. These studies are driven by different teams and take advantage of synergies, which allows us to expand the patient base and develop larger projects.
To support Miranza's leadership position, we are strongly committed to R&D&I (research, development and innovation). Each of our centres has a person in charge of this area, which highlights the importance of research for the group and, at the same time, ensures that all the clinics follow the same standards and work in a collaborative way. Thus, the possibility of sharing experiences and results provides our project with the necessary innovation base to be able to compete in the future.
Networking as an identity sign
With the aim of offering the best service and solutions in eye health, Miranza's centres are networking, thereby adding resources, professionals, knowledge and know-how. Thus, all our offices benefit from the medical excellence that distinguishes the group, based on high quality standards and homogeneous protocols that provide coverage to national and foreign patients.
Wide geographical presence for a unique experience
After the launch of the ophthalmic corporation in Madrid, new presentations will be held in January and February in the other clinics that make up Miranza and are spread throughout much of Spain: IOA and Mirasierra (Madrid), Begitek (San Sebastian), Clínica Muiños (Santa Cruz de Tenerife), Virgen de Luján (Seville), Oculsur (Cadiz and Jerez), Albacete and IBO (Palma de Mallorca), in addition to Vissum (Alicante) and the IMO (Barcelona), which are also joining the group as reference institutions.
Miranza's presence in some twenty cities is completed with another 12 outpatient facilities, which are associated with some of these clinics.