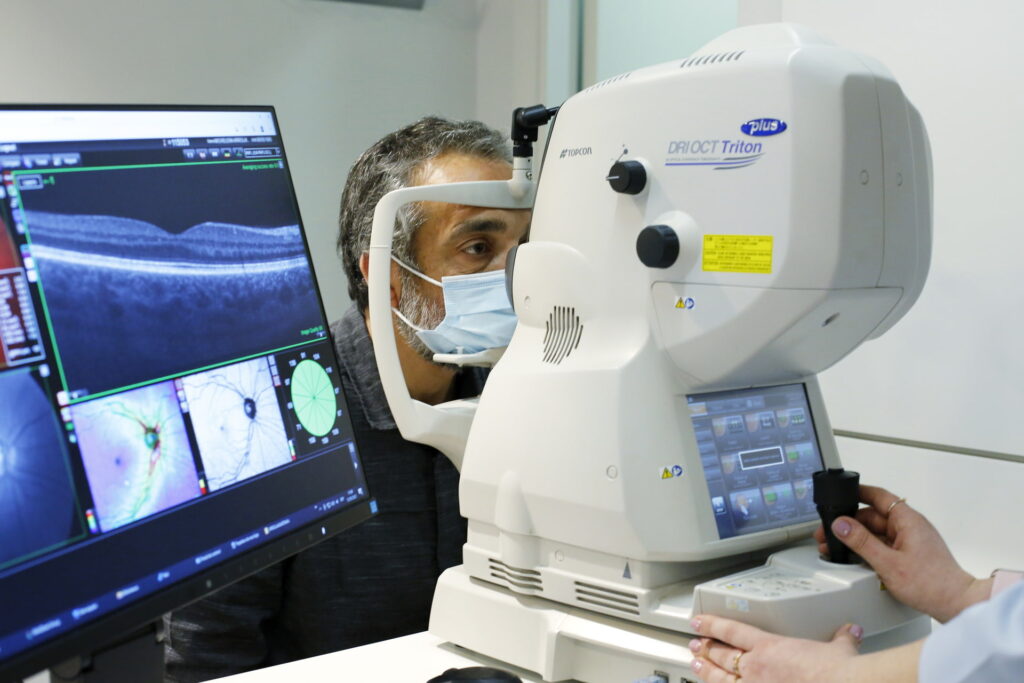 Miranza is promoting the prevention of retinal diseases
The retina is the structure of the eye that is responsible for transforming light into images and, as a result, plays an essential role in vision, in interpreting reality and in general quality of life. This is one of the two reasons why it is so important to regularly visit an ophthalmology centre for a check-up. The other is its vulnerability. At the end of the day, many diseases might harm retinal health, some of which are serious and could lead to irreversible damage and total vision loss. Its specialist care is key.
Diseases affecting the retina
Age-related macular degeneration is one of the most frequent retinal diseases and, among other symptoms, causes a loss of central vision, blurred vision and the constant observation of wavy or twisted lines. Diabetic retinopathy, macular hole, retinal detachment or myodesopsia, also known as floaters, are some of the other more common retinal conditions. Each one of these has its own risk factors. Having an expert check-up and following the personalised treatments indicated can help relieve and even get rid of the symptoms.
Free retina check-up campaign
We are fully committed to eye health. Which is precisely why our ophthalmology centres distributed around the main cities of Spain are offering one or several days of free retina check-ups over the coming weeks on the occasion of World Retina Day (24 September), a day that should be used to reflect on the importance of caring for this delicate and crucial eye structure. Here are the locations and dates of the check-ups in the campaign:
From 13 to 19 September, screenings at the clinics
Miranza IBO and Miranza Passeig Mallorca. Places can be booked at the centres.
Miranza Clínica Palomares (Benidorm). Places can be booked by calling 689 402 040.
Miranza Begitek (Donostia-San Sebastian). Places can be booked by calling 943 298 329 or writing to [email protected]
Wednesday, 13 September
Club náutico de Sevilla. Seville. For members only. (Screening by Miranza Clínica Virgen de Luján)
Friday, 15 September
Urban area (C. Valentín Sanz at the junction with C. del Castillo). Santa Cruz de Tenerife. No prior booking required. (Screening by Miranza Clínica Muiños)
18 and 19 September
Alicante railway station. (Av. Salamanca, SN). No prior booking required. (Screening by Vissum Grupo Miranza)
Club Deportivo Bilbao. Bilbao. For members only. (Screening by Miranza COI, from 2 p.m. to 8 p.m.)
Miranza Clínica Begoña. Places can be booked by calling 946 91 01 40 or by asking at the centre's reception.
Tuesday, 19 September
ILLA DIAGONAL Shopping Centre. Barcelona. No prior booking required. (Screening by IMO Grupo Miranza Barcelona)
GOLF PARK. Madrid. (Screening by IMO Grupo Miranza Madrid)
Team of retina specialists
Having a retina check-up is always positive. In this case, however, you have added reasons to do so: At Miranza we have the most advanced team of retina specialist ophthalmologists, experts in diagnosing associated conditions and in their treatment. Miranza is also a trail blazer in some of these treatments, such as vitrectomy, a type of surgery that can deal with such diverse diseases as retinal detachment, diabetic retinopathy, macular holes, trauma and even inflammatory diseases.

We are also experts in scleral buckling, cryocoagulation and fluid drainage, always implemented using the most advanced technology, surgical equipment and drugs. We have been applying them successfully for over three decades. And this is key. All in all, the success of a surgery depends primarily on the expertise of those performing it. Put yourself in the best hands. Furthermore, it is easier than ever this month: Our free check-up will mean you can meet us without any strings attached. You will see the facilities. You will meet our experts. And you will find out how much your eye health means to us.