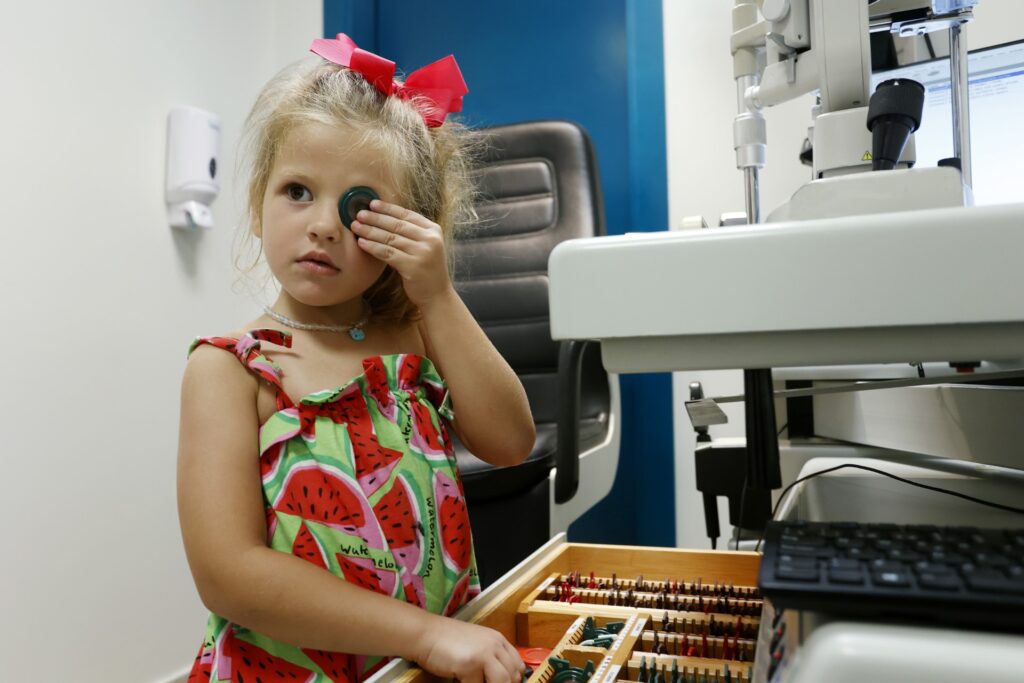 Testing and optimising eyesight before going back to school

Studying requires almost permanent effort by the visual system as a whole. Looking at the blackboard, reading textbooks, writing or using computer devices are demanding activities for the eyes, not only because of their nature, but also due to their duration. School days are long. Furthermore, the school day does not always end when the bell rings: Students must often do homework, which prolongs visual efforts yet further. In view of all this, at Miranza we recommend a check-up to optimise your child's eyesight before the return to school.
The importance of eye care before going back to school
The greatest impact of eye health in the classroom is on performance. At the end of the day, clear vision is essential for reading and to process the information properly. Refractive problems, such as myopia or hyperopia, can make understanding study materials rather difficult and have a negative impact on study results. Furthermore, vision impairment prevents students from enjoying the learning process, which is essential not only to enhance performance, but also to ensure their well-being during the school day. Feeling visually limited can be very frustrating and distressing.
Signs of visual problems in children and students
A regular ophthalmological check-up is the most reliable mechanism available to detect visual problems in children and students. However, there is a series of common symptoms that can be used to confirm suspicions: poor academic performance for no apparent reason, difficulty in concentrating, poor reading comprehension, holding books or devices too close, headaches caused by visual tension, eye fatigue, poor ocular coordination, squinting, sensitivity to light or rubbing one's eyes too often. These are all signs that your child requires specialist attention.
Tips for optimising the eyesight of children and students
The most important tip when looking after a child's health is to remember that they might not be aware that they have a visual problem, because they do not have enough information and consider it to be normal. To this end, both parents and teachers must be familiar with the aforementioned signs to notice possible conditions. Furthermore, as indicated above, eye tests by experts, particularly before the start of the academic year, are key to finding out how clearly they can see and be able to implement advanced solutions in time.
These solutions often include wearing prescription glasses, as well as visual exercises that encourage coordination and focusing. However, these practices must always be supervised by a specialist, as doing them incorrectly could be counter-productive. Lastly, we at Miranza recommend fostering knowledge of eye health and open communication so that children are able not only to identify visual abnormalities, but also express them freely. Looking after the eye health of your child is a collective task.
The importance of an eye test before the start of the school year
An eye test before the return to school could detect pre-existing visual conditions and identify any diseases that may arise in the future due to certain predispositions. And not only that: The early treatment of a visual or eye problem and its prevention help prevent more serious conditions from developing in the future. This is the general functioning of health applied to visual health: check-ups and ongoing care protect you. On all accounts, apart from visiting the ophthalmologist, it is also important to apply a series of healthy habits.
Healthy visual habits during the school year
The habits recommended to safeguard visual health include taking visual breaks during the activities that require prolonged visual focus, the configuration of well-lit classrooms in which to study, keeping a suitable distance when reading or writing, limiting the time for which electronic displays are used, practising outdoor activities that require varied ocular movements and following a balanced diet that includes food rich in vitamins A, C and E and zinc, such as carrots, spinach, oranges and walnuts. This year, have your eyesight tested before going back to school so that you can give your very best.