Book an appointment
Pedro Caro
Specialist at Miranza Oculsur
Specialist ophthalmologist dealing specifically in corneal surgery, cataract surgery and refractive surgery, including corneal with laser and intraocular through the implantation of phakic or pseudo phakic lenses. He also performs advanced techniques in glaucoma surgery (EPN ,MIX, and valve implants).
During his career he has performed around 32,000 cases of major outpatient surgery.
Member of the Spanish Ophthalmology Society, the Spanish Refractive and Ocular Implant Surgery Society, the American Academy of Ophthalmology, the American Society of Cataract and Refractive Surgery, and the European Society of Cataract and Refractive Surgeons.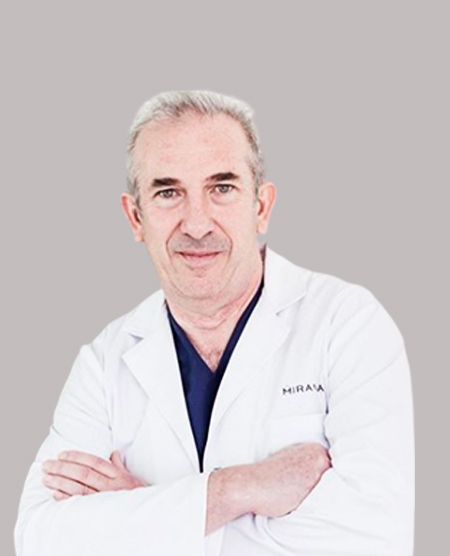 Training
Bachelor of Medicine and Surgery from the University of Cadiz (1981-1987) average grade: Outstanding.
Remunerated place as an intern student following an entrance examination by the Provincial Government of Cadiz (1983-1987) in the Anatomical Pathology and Internal Medicine chairs, successively.
Specialist physician in ophthalmology following the medical internship programme at Puerta de Mar U.H. in Cadiz (1990-1993).
Rotations at San Carlos Hospital in Madrid in anterior pole, glaucoma and orbital, and at Valme Hospital in Sevilla in surgical retina (1993).
On assignment at Alicante Hospital in cornea and penetrating keratoplasty, receiving accreditation as a surgeon to perform corneal transplantations (1992).
Rotation at Bascom Palmer Eye Institute in Miami in anterior pole(1994).
On assignment at Castiella Clinic in Bilbao in strabismus (1992).
Rotation at Ramón y Cajal Hospital in strabismus with Dr José María Rodríguez (1995).
On assignment at Galdakano Hospital with Dr López Garrido in vitreous-retina (1996).
Different rotations in the most advanced national and international ophthalmology surgical centres throughout my career (Jiménez Díaz Foundation, La Fé Hospital in Valencia, Dexeus Clinic, Barraquer Clinic in Colombia, etc.).
Career
Creation of the Cornea and Keratoplasty Unit at the Puerta del Mar University Hospital in 1993, performing 17 penetrating keroplasty operations during that year.
Service head at Pascual Pascual Hospitals 1994-1998, performing 5,200 major outpatient surgeries from the state-appointed waiting list.
Joint medical director and head of surgical retina and strabismus at IAMO – Institute of Ocular Microsurgery of Andalusia 1994-1998.
Creation and management of the Oculsur Clinic with centres in Cadiz, Jerez, Seville and Huelva, 1998-2018.
Founder and first chairman until 2004 of Corporación de Clínicas Innova Ocular, 1999-2004
Medical director of Miranza Oculsur Clinics, 2019 – 2021.
Scientific and Research Activity
Four national and international indexed publications.
Different national and international non-indexed publications.
Author of chapters in five nationally and internationally published books.
Participation in 3 multicentric international trials on phakic and pseudo-phakic LIOs.
Over 100 participations at national and international congresses as a speaker and/or moderator.
Chairman of the SECOIR 2010 Congress.