Book an appointment
Begoña Ortiz de Zárate
Specialist at Miranza IOA
A doctor who graduated from the Complutense University of Madrid and a specialist in ophthalmology at the same university, conducting related studies at the Clinical Hospital of Madrid.
She also has a Master's degree in Neuro-opthamology and Strabismus from the Ramon Catroviejo foundation.
She has worked at the IOA since its foundation, coordinating the diagnostic unit which includes the study, diagnosis and treatment of the most varied eye conditions.
Her field of activity ranges from the anterior pole with ocular surface disorders and infectious and degenerative diseases. to the posterior pole, in which she assesses, investigates and treats inflammatory and degenerative choroidal and retinal afflictions.
She completes her work at the institute with child care, along with Dr. José Zamora in the paediatric ophthalmology department.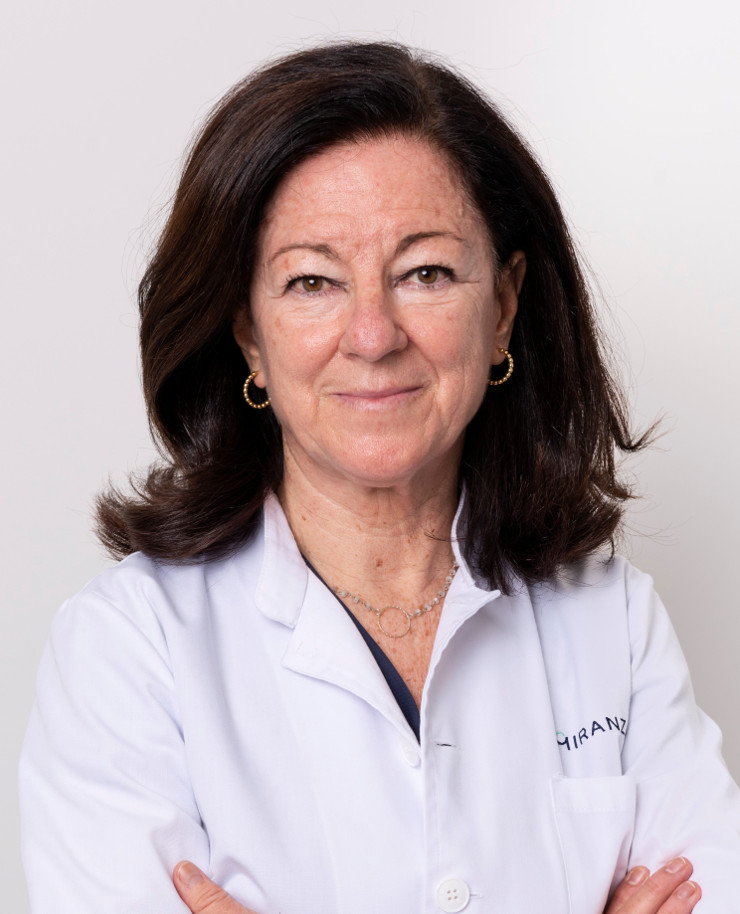 Training
Bachelor of Medicine and Surgery from the Complutense University of Madrid, 1984.
Attached to the Ophthalmology department at San Carlos University Hospital in Madrid. Entrance by Merit contest, taking the Ophthalmology Speciality programme, from September 1984 to December 1988. Scholarship for postgraduates by "Cegasa Internacional".
Research proficiency certificate in the Ophthalmology programme of the Department of Surgical Specialities of the Complutense University of Madrid, 1988.
Ophthalmology specialist diploma from the Professional School of Ophthalmology at the Complutense University of Madrid, 1989.
University Specialist in Neuro-ophthalmology and Strabismus from the Complutense University of Madrid, 1990.
Specialist physician in Ophthalmology from the Ministry of Education, Science and Sport, 2002.
Career
Visiting professor at the School of Information Technology, in the 1st and 2nd year of Professional Training in Specialist Laboratory Techniques, teaching the ophthalmology programme during the 1988-89 school year.
Professor of the Laboratorios Alcon-Cusí Training Department in the postgraduate theory-practical courses on advanced surgical techniques for anterior pole surgery, 1993-1999.
Professional work as an ophthalmology physician at the Advanced Ophthalmology Institute- IOA Madrid permanently and full-time, 1990-2019.
Specialist physician and head of the Ocular surface unit. Miranza IOA Madrid, 2019- present.
Teaching activity
Speaker at congresses, courses, conferences, and seminars nationwide organised by bodies such as the Spanish Ophthalmology Society (SEO), the Spanish Society of Refractive and Ocular Implant Surgery, the Ophthalmology Society of Aragon, etc.
Scientific and research activity
Author and co-author of publications (monographs), articles in journals of impact and scientific photography since 2006.
Research work as a collaborating physician in the R&D+i Area of Miranza IOA Madrid since it was created.