Book an appointment
Beatriz Oyarzabal
Specialist at Miranza Vírgen de Luján
Ophthalmologist specialising in Paediatric ophthalmology and Strabismus.
Member of the Spanish Ophthalmology Society.
Board Member of the Ophthalmology Society of Andalusia 2014-2018 and of the Spanish Paediatric Ophthalmology Society (since 2018).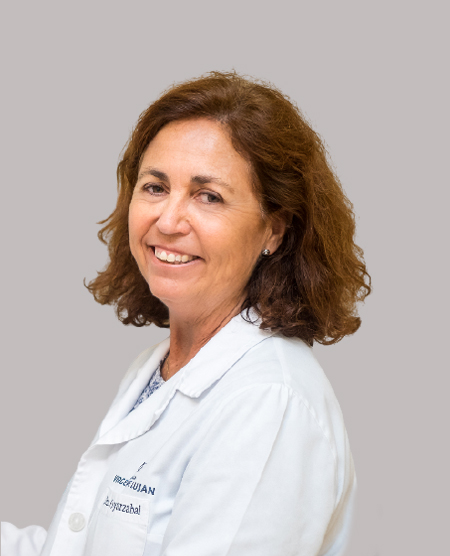 Training
Bachelor of Medicine and Surgery from the University of Seville in 1986.
Medical intern in ophthalmology via medical internship from 1988-1991 at Virgen Macarena Hospital in Seville.
Medical intern ophthalmology specialist in January 1992.
Career
Ophthalmologist specialising in Poor Vision in the Visual Rehabilitation Unit of Andalusia, located in the Luis Braille ONCE School in Seville, from 1992.
Ophthalmologist in the Regional Branch of Andalusia. ONCE. Seville since 1992.
Ophthalmologist at the Miranza Vírgen de Luján Clinic from April 2007 – present.
Teaching activity
Speaker at 7 Courses/conferences and professor in another 2 courses.
Master's degree professor in Early Care. Paediatric Visual Impairments. 2015 to 2019.
Scientific and research activity
Participation in 20 National and 3 International congresses.
3 Publications in books.